Home • Itineraries & Places • Questions & Answers • About Us • Contact

Itineraries and Places
There are various approaches to formulating an itinerary. The following list of places (links are to descriptive pages on Best of Sicily) and map are a useful starting point.
---
Itineraries
The "typical" group of undergraduates will be interested in a general itinerary, but your tour may have an emphasis on a specific kind of site that exemplifies ancient archeology or medieval architecture. The great diversity of Sicilian attractions argues for variety.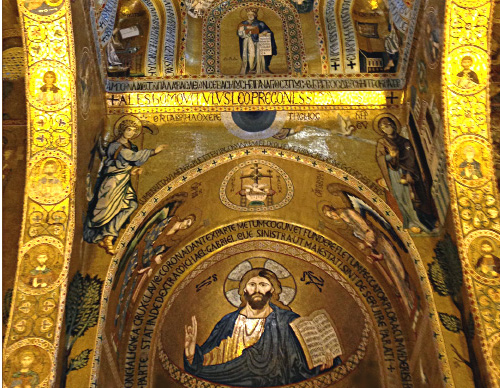 Though your focus may be medieval, Sicily has some of the greatest ancient Greek temples. Even if your group's focus is classical antiquity, it would be great to visit a few of the churches of the Norman-Arab era that don't exist elsewhere. (Shown here is the Palatine Chapel in Palermo's Norman Palace.)
Our staff is exceptionally competent in developing interesting, practical itineraries. For most groups, we recommend a convenient route that crosses the island, beginning in Palermo and ending in Catania, rather than going back and forth in a "circuit." Another possibility, to avoid too many hotel check-ins, is a focus on either eastern or western Sicily, with excursions from a base in Palermo (to Cefalù, Erice, Agrigento, Segesta) or Catania (to Siracusa, Taormina, Etna, Piazza Armerina).
A few years ago, we did a tour of western Sicily for undergraduates of New York University's Steinhardt School that emphasized people over places. It included a lecture on immigration by a specialized attorney, followed by a visit to a refugee center in Palermo, and a lecture by a journalist who has written about organized crime, followed by a visit to the anti-Mafia museum at Corleone and lunch nearby on a farm confiscated from mafiosi and now operated by a non-profit organization.
Other specialized subjects include women's studies, cuisine and volcanology.
---
Places
We have our preferences, but here we'll present Sicily's most popular sights and sites in alphabetical order.
• Agrigento: The "Valley of the Temples" is a large archeological site outside town surrounded by olive groves and almond orchards. The almond blossom festival (in late February) is rooted in enchanting folklore. Agrigento boasts several ancient Greek temples, including the Temple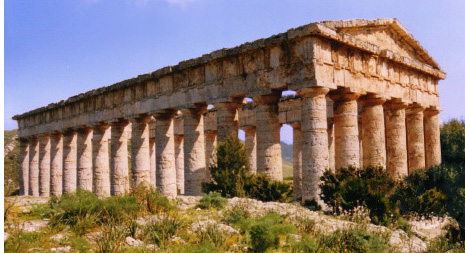 of Concord, preserved in toto. Another splendid temple conserved in its complete state is at Segesta (shown here and mentioned below). Unless your group's chief focus is ancient Greek Sicily, we suggest visiting either Agrigento or Segesta.
• Cefalù: To describe Cefalù as western Sicily's "Taormina" may be a slight overstatement, but it is certainly the most similar thing you'll find, so don't miss it. The design of the splendid Norman cathedral was based on a French one, but nothing else in this seaside town owes much to anything but Sicily's own multicultural influences. There's an ancient Sicanian temple on the rocky cliff overlooking the town, and the ruins of a castle. The town itself offers pleasant, narrow medieval streets and interesting shops. There's also a public beach. And all just an hour from Palermo, making Cefalù a great excursion idea if you're staying in the capital.
• Erice: This hilltop town was successively Elymian, Phoenician, Carthaginian and Roman. Its gray stone forms Punic walls, a castle, church and medieval streets that could almost be mistaken for ancient ones, bringing to the Good Friday passion procession an atmosphere rarely matched anyplace in Italy or Greece. But there's much more to Erice than this singular annual event. While you're here, don't forget to try the local couscous and pastries.
• Mount Etna: Europe's greatest natural wonder is a living, sacred mountain of legend and myth. Consider a jeep excursion to the upper regions, which are covered with snow for four months of the year. Dress warmly in summer too; it's always cool at the top. Visible from Taormina and much of eastern Sicily, this is the island's highest mountain at a variable 3350 meters.
• Monreale: The arcane fact that a mosaic icon of Thomas Becket graces the apse, and that it is the earliest holy image of the English saint murdered in Canterbury Cathedral, is just one of many fascinating features of this twelfth-century church and cloister built on a hill in the eclectic Norman-Arab style with Byzantine artistic elements, the cathedral's walls are covered in mosaic. (Another "secret" fact is that the heart of Saint Louis is preserved here.) No trip to Palermo is really complete without seeing Monreale, which overlooks the city and its vast valley. Plan to spend at least two hours in this peaceful place. You'll rejoice that you did.
• Palermo: Sicily's regional capital and largest city is perhaps best compared to a rough, uncut jewel. Its beauty has to be revealed through careful discovery. You'll find this bustling city chaotic and dusty yet interesting. The historic environment of this former royal capital of kings and emirs is largely Baroque with some stunning nuggets of medieval architecture. The Norman Palace, with its Byzantine Palatine Chapel (a Monreale in miniature), is built upon Phoenician walls. There are a number of monasteries and castles, and a magnificent cathedral, as well as art galleries and a good archeological museum. Monreale is only a few kilometers outside town. Palermo is a great western-Sicilian "base" for excursions (day trips) to Cefalù, Erice, Segesta, Agrigento and the wine country.
• Piazza Armerina: The Roman villa outside town has the most extensive mosaic pavements of the ancient Roman world, composed of rural scenes, pictures of flora and fauna, and classical motifs. Most of it is in exceptional condition, looking as if it were completed yesterday. The structure was the home of a wealthy Roman who loved art.
• Ragusa: With the nearby town of Noto, this locality is well-known for its Baroque architecture in a uniquely Sicilian style.
• Segesta: We mentioned that Agrigento has one of Sicily's two completely standing Greek temples. The other is at Segesta (shown here). Out of justified pride, a few of today's Greeks might disagree, but this is the best-preserved ancient Doric temple in what used to be the Greek world. The site's ancient amphitheatre, set on a hill, boasts a magnificent position. If time is very limited, we suggest that you visit either Segesta or Agrigento.
• Siracusa: Archimedes, Plato and Saint Paul loved Syracuse, and with good reason. It was one of the most important cities of the ancient Greek world, and the most important in Greek and Roman Sicily. It was also one of the most beautiful. The archeological park is extensive, while the old city, Ortygia, with its charming, narrow streets (closed to most traffic), boasts some fascinating treasures. The cathedral was converted from a Greek temple whose pillars support its walls, and in Ortygia is one of Europe's oldest mikvehs.
---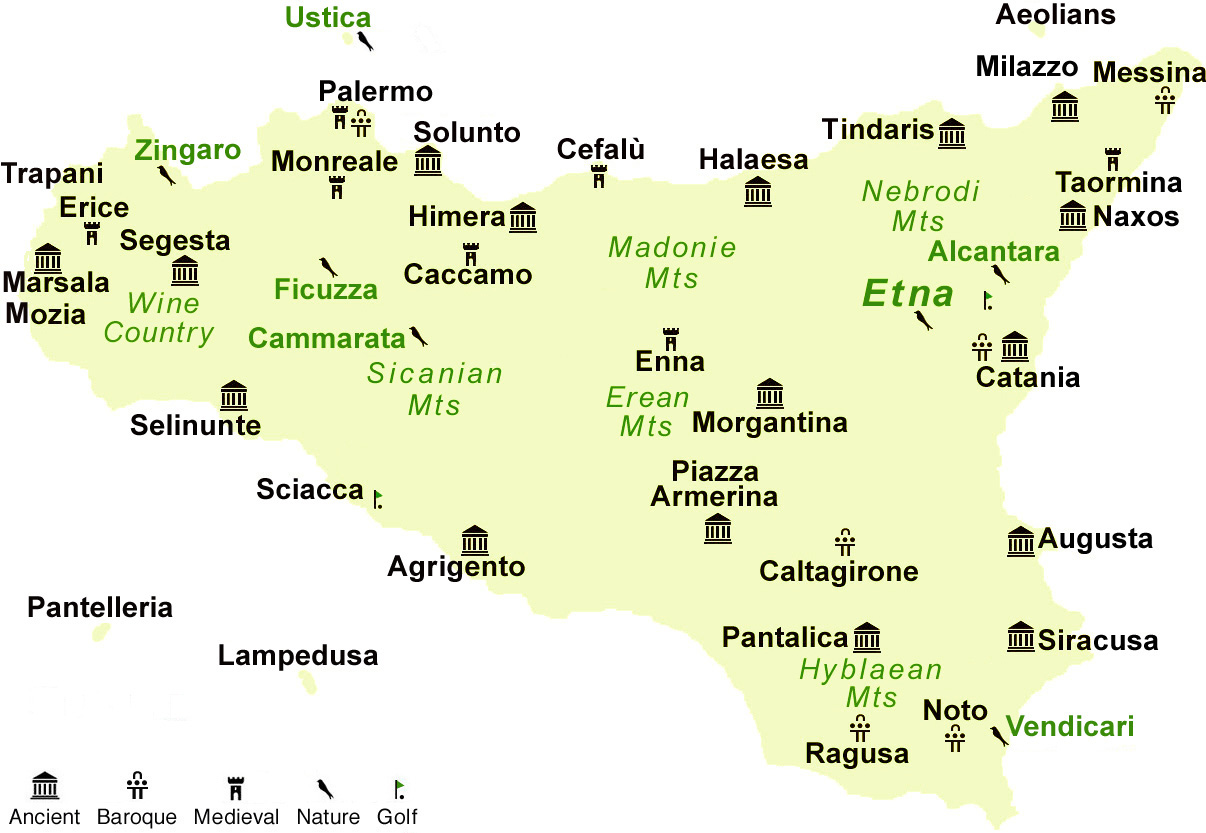 ---
© 2018 Golden Sicily LLC